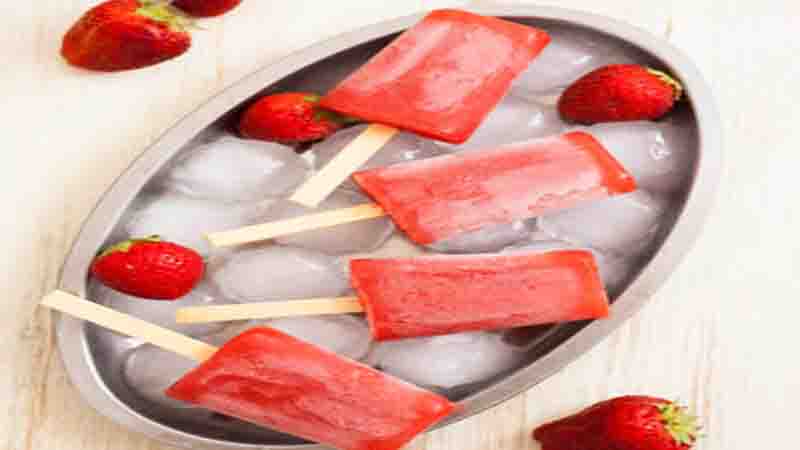 Homemade fruit ice cream very easy! | Recipes for Kids
In summer more than ever young and old crave fresh things, and why deny it, ice creams are the kings of summer. A healthy alternative is to prepare homemade ice cream and much better if they are made of fruit. With these homemade fruit ice creams in popsicle format, the little ones will have the recommended portion of fruit in their snacks or desserts in a much richer and more fun format!
Although we have made the version that we are presenting today with strawberries, it can be replaced with any fruit you have at home, so the possibilities are endless. Shall we see the recipe for these homemade ice creams ?
homemade fruit ice cream
Ingredients
for 5 poles
200 gr of fruit pulp (in our case liquefied strawberries)
Syrup made with 100 cc of water and 50 grs. of sugar
How to prepare homemade fruit ice cream
The first thing we will do is the syrup. To do this we will boil the water with the sugar, until it dissolves. We booked. Meanwhile we blend the fruit. In our case we have used strawberries, which we have previously washed and cleaned. Choose the fruit you choose, it is very important not to skip this step.
We mix the pulp with the syrup and fill the molds for popsicles, if we do not have molds we can also use disposable cups.
We place the stick and take it to the freezer for a minimum of 3 hours, although the best is from one day to the next.
So that the stick does not move while the popsicle freezes, we give you two tricks that will come in handy:
The first option is to place a transparent film on top of the popsicle mold, tight (as if we were going to cover it) and then stick the stick into the popsicle. We tighten the film again if necessary and thus take it to the freezer. The film will prevent the stick from moving. With these types of individual molds, this trick works great! Check out more interesting articles on our Blog Fam.
But there are also molds for poles that are joined, with 4 or 6 poles, and in this case it is more difficult to tighten the film so that it fits us well (I know because we also have a mold for 4 poles at home). For this type of mold, the solution is to put the mold in the freezer without the sticks, and as soon as it starts to harden, remove it, prick the sticks and freeze again. It is more cumbersome because we cannot get lost, if they freeze too much we will no longer be able to click, but with a little patience we make sure that our popsicles are perfect.